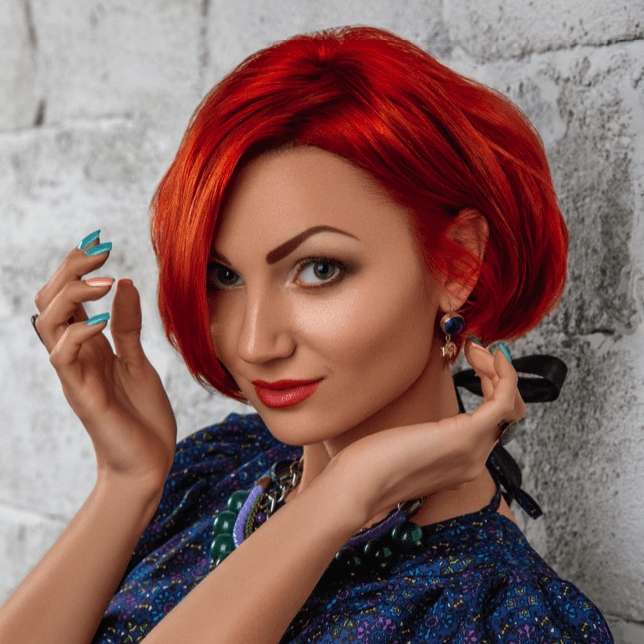 Single Process color – This is generally a permanent color that is applied either just to the roots or all over from roots to ends. a single process can also be a demi-permanent color or a glaze, which is a type of color that only deposits color into the hair. A single process can cover up your grays, blended your grays for a more a natural look that gradually washes out, or creates more richness, changes tone and adds shine.
Highlights – The more popular form of foiling is "highlights". Highlights give you an overall brighter look. Lightener or color can be used to lighten your hair, depending on your hair and the look you want to achieve.
Lowlights – used to add more darkness into the hair. Generally, lowlights are 2-3 levels darker than your base color. Lowlights can also be done with highlights together to give more dimension.
Root retouch – simply an application of hair dye to the roots of the hair, to disguise the fact that hair has grown out, and to make a hair coloring last longer. Generally, hair will need to be colored every four to six weeks.
Corrective color – process that must be performed by a professional hair colorist to correct any and all damage caused by a color service gone wrong. Lighten or darken you hair or just areas of it, such as ends or roots.
Relaxer – generally used by people with tight curls or very curly hair which makes hair easier to straighten by chemically "relaxing" the natural curls.
Keratin – is a cosmetic or beauty product used to straighten hair. It is also called a Brazilian keratin treatment or a "Brazilian blowout." The products remove hair frizz, improve color and shine, and make hair look healthier.
Toner – used on hair after it has been subject to strong chemical bleaching and lightening processes in order to get rid of brassy hair tones. The toner works most noticeably on light hair as it does not lift or permanently alter the color of hair, but rather adds a tone over it
Balayage – a technique for highlighting hair in which the dye is painted on in such a way as to create a graduated, natural-looking effect.
Ombre- the blending of one color hue to another, usually moving tints and shades from light to dark.
---